See on Scoop.it – Titan Explores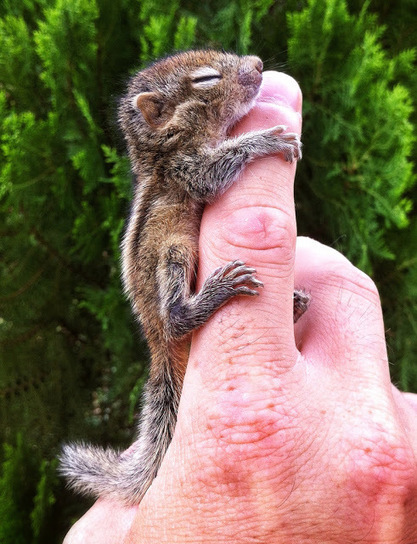 Read the article about me and Rob, an orphaned baby palm squirrel that I raised whilst filming in Sri Lanka for a BBC wildlife series. The article was published in Mail Online on 17th September and it spawned many more articles, including Die Welt, 20Minuten,Telegraph, and TV appearances around the world. Rob is now one of the most famous squirrels on the planet and my images of him have been seen by millions of people. This is Rob's story.
I've now been in Sri Lanka for 3 weeks filming leopards and ancient temples for a BBC2 wildlife series called Monsoon. Two weeks ago, at 3am, we came back from our night shift filming in Wilpatu national park, and there in the dark was Rob the baby palm squirrel laying on the floor of the hotel car park. At first I thought he was dead but then I noticed a little twitch. I scooped up his weak and cold body and warmed him in my hands. I presumed that he had either fallen out of the nest, or had been kicked out by a sibling. My first hope was to reunite him with his mother. I put him into a secure spot as high as I could in the tree that I presumed he had fallen from. I covered him in a layer of tissue to help him keep warm and I waited. I had hoped that mum would be looking for him and would hear his little squeaks but by morning he was still there.
See on www.ironammonite.com